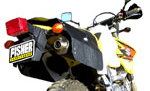 Installation Instructions
Complete Set Includes:


• Saddlebags (3 bags)
• ABS rack
• Mounting hardware
Read before purchase:


Price: $499.99


DRZ 400 S/SM ('00-2019) Saddlebags, Seat, & Rack Accessories
The DRZ 400 luggage is designed for single track terrain with the bags narrow dimensions and proper placement. The combined volume of the saddlebags are approximately 38.5 liters. For those who enjoy the asphalt, this model also fits the SM. Optional free retro-reflective stripe is available. Other pannier and luggage setups weigh more than our 11 lb set. If your DRZ has aftermarket exhaust, contact us prior to purchase for additional information, a rubber support adjustment may be required. This setup will fit the E model as well by exchanging subframes with an S or SM model and a slight rear fender cut.
Dimensions (approx.):
12" x 16" x 3.5" [682 in³](Left side)
10" x 15" x 4.5" [554 in³](Top) (Expands to 8" height [985 in³])
12" x 16" x 3.5" [682 in³](Right side)
The Suzuki DR-Z 400 saddlebags:
• allow room for stock turn signals
• fit around most aftermarket and stock exhausts
• leave 100% of the seat space
• allow room for passenger foot peg use
• are narrower than the handlebars
• Click here for more information
Check out the photo gallery below (click to enlarge, again to maximize)
The 2006 DR-Z 400S shown below may look different than stock with the aftermarket accessories, including our custom 10.5" wide seat.