KLX 650C (1993-1996)
This KLX model requires some extra room for the turn signals. To accomodate the turn signals, the saddlebags have been sewn to fit around the stock setup. With this unique design the rider will still have the maximum amount of space available. If your KLX has an exhaust installed that we do not have listed, contact us for additional information. Total volume is approximately 36 liters.
Dimensions (approx.):
14" x 16" x 3.5" [656 in³](Left side)
10" x 11" x 4.5" [507 in³](Top) (Expands to 8" height [902 in³])
14" x 16" x 3.5" [656 in³](Right side)
The KLX 650C saddlebags:
• allow ample room for stock turn signals
• fit around the stock and aftermarket exhaust
• leave 100% of the seat space
• allow room for passenger foot peg use
• are narrower than the handlebars
Check out the photo gallery below (click to enlarge)
(click again to maximize)
* The '93 KLX 650C depicted below may look different than stock due to
the aftermarket parts installed, including our custom 12" wide seat. Click the 'Fisher Seats' button for seat customization options.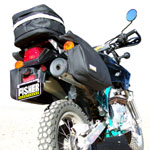 Installation Instructions
Price: Unavailable
Includes:
• Saddlebags (3 bags)
• ABS rack
• Mounting hardware