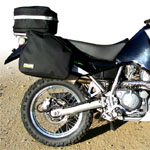 Installation Instructions
Complete Set Includes:
• Saddlebags (3 bags)
• ABS rack
• Mounting hardware
Read before purchase:


Price: $499.99


KLR 650 (2008 - 2022) Saddlebags, Seat, & Rack Accessories
The new KLR has a huge stock rack that made a perfect platform for a massive expandable top bag. These soft bags keep the luggage weight low and centered as much as possible. The retroreflective stripe on the top bag is an option on all of our models at no extra charge. Other pannier and luggage setups weigh more than our 11 lb set. Total volume is approximately 46 liters. If your KLR has an exhaust installed that we do not have listed, a rubber support adjustment may be required, contact us for additional information.
Dimensions (approx.):
14" x 16" x 3.5" [696 in³](Left side)
12" x 16" x 4.5" [792 in³](Top) (Expands to 8" height [1408 in³])
14" x 16" x 3.5" [696 in³](Right side)
The KLR 650 saddlebags:
• allow ample room for stock turn signals
• fit around the stock and aftermarket exhausts (FMF Q4)
• leave 100% of the seat space
• allow room for passenger foot peg use
• are narrower than the handlebars
• include luggage lock options
• click here for more information
Check out the photo gallery below (click to enlarge)
The '08 KLR 650 shown may look different than stock due to the aftermarket accessories installed, including our custom 12" wide seat.